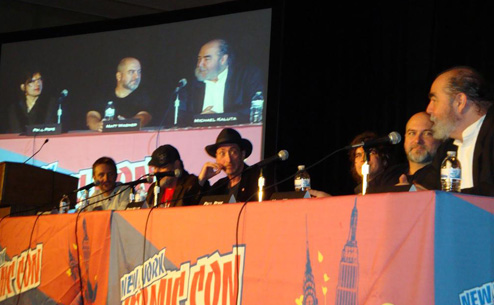 This past week I had the privilege of sitting in on Legendary Comic's panel at New York ComicCon featuring Bob Schreck, Frank Miller, Paul Pope, Matt Wagner and special guest  Michael Kaluta (and scoring one of the limited edition Paul Pope-designed t-shirts. Pshyea.). You might have heard that Legendary Comics is the newly formed comics arm of Legendary Entertainment which in association with Warner Bros. produced some of our favorites such as: Inception, The Dark Knight, 300, The Hangover, and the upcoming Dark Knight Rises. Whew that's quite a list. Now it's primed for launch for several new titles Holy Terror (Miller) out now, and The Tower Chronicles (Wagner) and Paradise Lost (Kaluta) to be released sometime in the indeterminate future.
I'm extremely anxious to get my hands on Holy Terror, which is already stirring up some controversy. Originally titled "Holy War, Batman!", it was supposed to follow Batman as he exacts his revenge on Al Qaeda for the September 11 attacks. That, however, proved to be too heavy to put on one of comics' most popular characters, so Miller created Holy Terror. On the NYCC panel Miller spoke about how the character came to be – as an amalgamation of all the Batman bits he's written over the years that weren't truly "Batman". And of it being a straight up revenge fantasy against the terrorists who brought so much destruction to his city. Miller said, quote:
I can't tell you squat about Islam. I don't know anything about it. But I know a goddamn lot about Al Qaeda and I want them all to burn in hell.
Which didn't really get much applause, surprisingly, from the NYCC audience. I think we were all a little bit shocked to hear such straight talk on an official panel, usually we just get some banter, some chuckles and the company line.
The most promising title, to me at least, is Steve Niles and Michael Kaluta's graphic novel in the works Paradise Lost, an adaptation of John Milton's 17th-century poem Paradise Lost. The poem tells the Biblical story of Satan tempting Adam and Eve, and how the couple is eventually cast out of the Garden of Eden. Kaluta's novel, as described during the panel, is not your decent through the levels of hell we might expect. In this video answer to a fan question about Milton's Paradise Lost, he explains there is no precedent for his adaptation:
I'm truly, truly excited about this project. Just look at Kaluta's first released image:
Tower Chronicles on the other hand, is not for me. Listening to Wagner describe it during the panel was like listening to a pitch for another Assassin's Creed game.  Legendary, this is the perfect time to get ahead of everyone else's game and get some new perspective on your staff.
More:
Watch Frank Miller be interviewed by Bob Schreck at NYCC over at Newsarama.